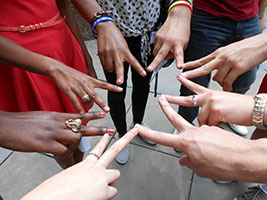 Cultural Connections began as the Puerto Rican Orientation Program in the 1970s, and as the needs of students of color changed on Yale's campus, the program was renamed the Pre-Registration Orientation Program. In 1999, the pre-orientation program became Cultural Connections, and in 2004, the program was opened to all students. Each year, we host approximately 125 first-year students during late August.
Our activities include (but are not limited to): an introduction to academic and co-curricular resources; presentations on campus life by ethnic counselors and current students; visits to local points of interest; and events showcasing the talent of program participants. CC helps foster a network of friends for program participants and introduces students to the various university support systems.
Many students come to Yale from a variety of towns, cities and neighborhoods. Cultural Connections is designed to help assist in your transition from high school to college. Our group of CC Aides, generally sophomores and juniors, are chosen for their familiarity with Yale's resources, willingness to serve as an older brother/sister to incoming first-years, and for their diverse interests (academic, community, extracurricular, etc.). These Aides serve as program staff during our five-day program and not only assist us in day-to-day logistics, but more importantly, help create a friendly atmosphere for our incoming first-years.
Because of the COVID-19 pandemic, the 2020 Cultural Connections Program will not be offered in person before the term starts; instead, it will be offered online before the term starts, with possible in-person events after classes start. More information about the program and registration deadlines will be available by early July, when the university announces plans for the fall term.
Program Dates
Cultural Connections will run from Monday, August 17 through Friday, August 21st, 2020. Application deadline to Cultural Connections is July 31st, 2020 .
Housing and Meals
Room and board will be provided for the duration of the program beginning with lunch on Friday, August 21 (parents are welcome to join us for dinner that night). All CC participants will be housed into their permanents rooms. Our student counselors will temporarily be housed near our participants for help and guidance.
Cost of the Program
CC is online this year and there is no cost for the program.